Time flies and flies at rocket speed mind you! I stare at the calender on my desk and still cant believe that its 20th already meaning the year 2016 is already 20 days old . At the start of the year like majority of normal people i made some simple resolutions to bring in the new year and one such resolution was to wake up early to begin my morning on a fresh and pleasant note . How successful was this resolution of mine? well lets find out..
Nothing is more annoying than the alarm blaring into your ears early in the morning, my hands itch to snooze it but when you sleep early waking up early is a breeze . Right from the start of the year I consciously kept unwanted distractions like my mobile and TV away at night to help myself sleep early and this routine made the world of difference early in the morning. I got a good sleep and woke up with a smile and the freshness reflected in my body language all through the day .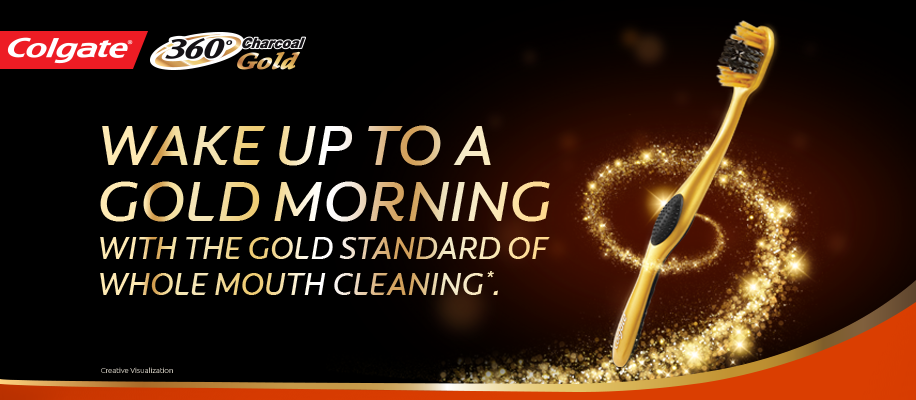 The second change I incorporated in my routine this year was switching to the all new Colgate 360 Charcol Gold toothbrush . Dentists recommend on changing your toothbrush every three months and with the new year kicking in i needed a new tooth brush . Colgate 360 Charcol Gold toothbrush caught my eye and i decided to give it a try and i must say i am very impressed with this brush. To start with the brush in gold and black is elegant and classy having a premium feel to it and it does its job of cleaning my teeth beautifully. Colgate 360 Charcol Gold toothbrush nicely cleanses and freshens up not only my teeth but also my gums, tounge and cheek , all this without being harsh on my mouth. With such a blast of magical freshness which drive all laziness and sleep away my mornings are now shiny mornings, #Colgate360GoldMornings indeed.
waking up early is always good and the best thing about early rising is you have plenty of time to plan and get ready for the day ahead and it surprises me how much of work can be done early in the morning. Here is what i do
A five minute prayer, becuase a touch of divinity to my gold mornings is always welcome.
A 10 minute walk with dad. Quality time with dad . check. Lungs full of fresh cool air . Check. Fit and fabulous me . Check . Golden did i say well this is turning to be platinum!
Make a simple plan for the day on my super note app
Smile . Click Selfie. Update social networking sites
Healthy breakfast. Oats porridge + milk + fruits . Energized gold mornings it is!
Style up for the day
Thats my 2016 mantra into converting normal plain boring good mornings into dazzling gold mornings Whats yours?
*This post is an entry for #Colgate360GoldMornings Campaign